IntelliTrac Live Tyre Pressure Monitoring Module
IntelliTrac provides a complete range of tyre pressure monitoring sensors for monitoring all types of vehicles & plant including passenger, light commercial, heavy vehicles, plant & machinery . Modules plug into the IntelliTrac IT300 Elite GPS Tracking Device via RS232 to provide second by second updates of tyre pressures, temperatures and sensor voltages.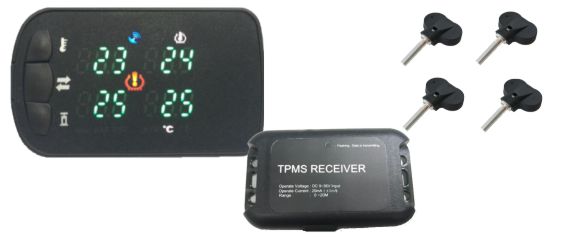 IntelliTrac
Tyre Pressure Monitoring
IntelliTrac's tyre pressure monitoring system comes complete with up to 4 sensors which may be installed within tyres or externally as valve caps. A total of 8 tyres may be monitored with an expansion module. Data is updated every 30 seconds and displayed to the driver on an LED in cabin display. Data is also transmitted via the IntelliTrac IT300 Elite GPS Tracking Device to the IntelliTrac server every 30 seconds. Alerts may be set up for pressure, temperature and sensor voltage readings which are out of spec.