Refrigerated Transport Cold Chain Management GPS Telematics
IntelliTrac's Elite GPS Tracker coupled to IntelliTrac's Temperature sensing modules, ensure peace of mind, by providing live GPS tracking of refrigerated cargo location & temperature every 30 seconds.
IntelliTrac's alert processor provides instant alerts to drivers and remote staff when temperatures fall outside specifications, whilst IntelliTrac's I/O controllers are able to monitor and remote control refrigeration units as required.
Contact Us For More Information
Live & Historical GPS Temperature Reports
IntelliTrac refrigerated goods GPS tracking & temperature monitoring provides the following functionality over and above IntelliTrac's hi end features:
Monitor up to 3 separate temperature compartments simultaneously
Live recording of temperatures
Live GPS tracking of vehicle location
Optional live monitoring of refrigeration unit ignition status
Optional live monitoring of refrigeration unit fuel levels
Optional alerts for temperatures falling out of spec
Optional monitoring of cargo door openings
Optional Live SatComs monitoring for regional areas without 3G/4G comms
Optional digital on/off control of refrigeration units
Data Analysis Tools
IntelliTrac provides user friendly customisable drag and drop data analysis tools to assist with interpreting and analysing data such as:
Analyse up to 3 temperature compartments at once
Analyse vehicle ignition status effect on refer temperature
Analyse refer unit operation - such as time to reach acceptable temperatures
Analyse the affect of door openings & curtains on temperatures in each compartment
Analyse fuel tank levels & fuel burn for claiming Fuel Tax Credits
Prove goods were loaded and transported within customer spec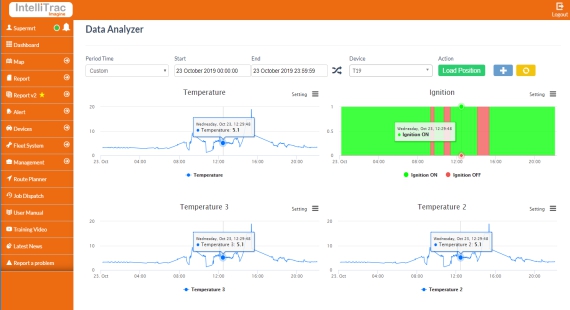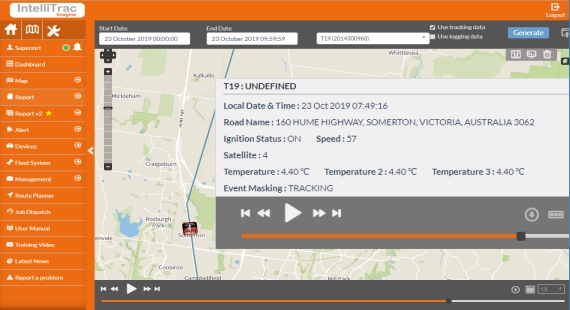 Journey Replay With Temperature Monitoring
Replay historical journeys showing date, time, location and most importantly refrigerated temperature values to prove to clients that goods were transported within specification.
Refrigerated Transport Management Apps
IntelliTrac provides a comprehensive Refrigerated Transport Management solution comprising an Android based TMS app which can be run on mobile phones, tablets or IntelliTrac Mobile Data Terminals, coupled to the Cloud Based IntelliTrac Transport Management software suite.
Loaders and Drivers are provided an Android App encompassing:
Load order sheets based on delivery route
Load secured compliance sign off
Driver pre-starts & load check compliance
Route optimisation, navigation & delivery bundling
Fatigue management
Time in/Out and POD signature capture
Photo capture of delivery or exceptions