GPS Tracking Garbage Trucks
IntelliTrac provides a complete turn key solution for the waste management industry ranging from local government residential waste collection services to commercial services. The solution is based on the following components including: IntelliTrac's Elite GPS Tracker coupled to IntelliTrac's Driver RFID System and Mobile Data Terminal utilising IntelliTrac Hawk MDT app for logging of bin faults, route optimisation, navigation, messaging, missed bin dispatch, pre start check lists and more.
In addition the solution may be integrated to IntelliTrac's Mobile Digital Video Recording System to provide up to 30 days recording of up to 8 cameras and provide live streaming and video capture of any incidences logged via the data terminal such as contaminated bins or un presented bins.
Contact Us For More Information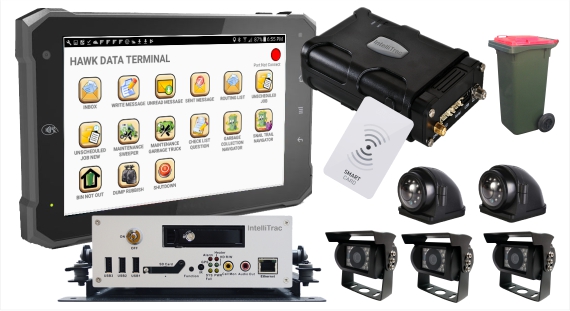 The total solution provides live tracking, journey replay showing each bin lift and/or bin fault recorded as well as providing a range of dashboards and reports to assist in route planning and optimisation as well as performance monitoring, work dispatch such as missed bin collection and bin repairs and much more.
IntelliTrac GIS departments work closely with local government to integrate rate payer service data to provide meaningful reporting to council.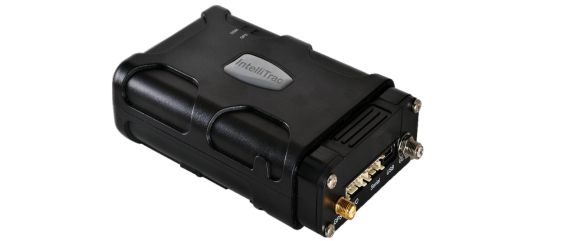 "IntelliTrac Elite" GPS Tracker
"Waste Management Edition"
IntelliTrac's Elite IT300 "Waste Management Edition" is the 4th generation flagship telematics device by IntelliTrac. With cutting edge technology & functionality, the Elite sets the benchmark in the industry with functionality, scaleability & flexibility well beyond any other product in the market.
Providing all standard telematics functionality such as live GPS tracking, historical journey replay, and acivity reporting, "Elite" is further excelled by its ability to interface with Mobile Data Terminals, RFID readers, Video Recording Systems , Vehicle Scales as well as Bucher and SuperiorPak Garbage truck PLC systems to monitor bin lifts and various other data available via the PLC interface.
Hawk MDT Waste Management App
Hawk MDT Garbage Truck Solution is a powerful, Scalable & easily customisable App with features such as:
Logging of bin issues such as "Bin not out", Overloaded & Contaminated Bins etc.
Incomming and outgoing messaging with quick response icons
Snail Trail or Turn By Turn Navigation for new or contracted staff
Pre-Start Check Lists
Icons to trigger video recording & live streaming of configured events
Missed Bin Collection Job Dispatch and Navigation
Driver alerts when approaching households requiring a special service
Mass Management and logging of tip dockets
Logging Shifts & Rest Breaks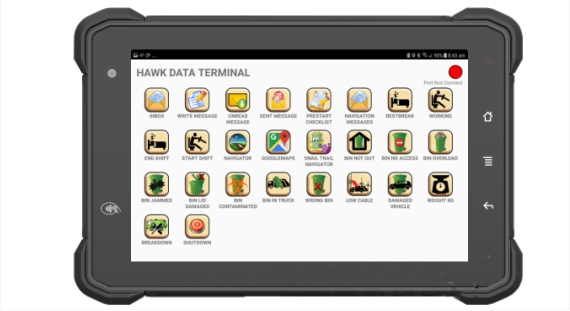 Mobile Digital Video Recorder
IntelliTrac's Mobile Digital Video Recorders integrate into the IntelliTrac GPS Tracking Telematics Device and Mobile Data Terminal to provide a complete solution for residential waste management comprising of the following features:
Connect up to 8 cameras in HD 1920 x 1080 resolution
Recording up to 30 days of video onto SSD
Live video streaming to IntelliTrac software on demand
Configurable in cabin video display screen with switching for reverse, bin lift etc.
Interface to MDT to trigger video snippets and send to IntelliTrac server when Bin Events are logged
Optional voice recording
GPS & 4G LTE enabled
Igntion controlled power management modes
Speed & Accelerometer recording
Back Office Functionality
Managers and Customer Service staff have a comprehensive software suite to efficiently manage operations
Live GPS Tracking
Live Video Streaming
Historical Journey Replay
Easy Customer Service Queries. Eg: Missed bins with live video evidence
Reporting & Dashboards. Bins collected, Hours Worked, Distances Traveled etc.
Route Planning & Optimisation
GIS Interfaces for pickup zones, presented bins against actual bins etc.
Work order generation - Missed bins & Bin Repairs
Defining residents requiring special services, such as elderly and invalid
"No more scrappy paper maps, run sheets, pre-start notepads, missing tip dockets, or two way radio calls between office & drivers."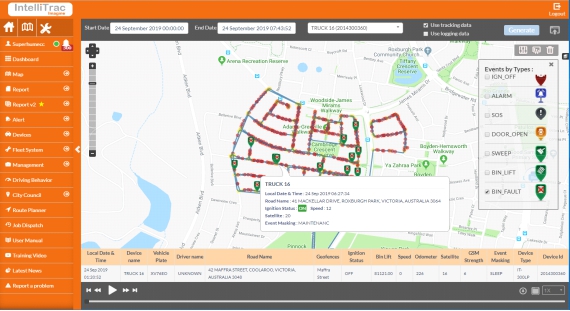 Simplifying Driver Tasks
IntelliTrac's Waste Management Solutions simply driver tasks to improve efficiency, accountability and customer service:
Route selection & navigation guidance for new or contracted drivers
Alerting drivers for special services for elderly & disabled
Alerting drivers for habitual missed, contaminated or overflow bin addresses
Electronic recording of tip dockets
Electronic Pre-Start check lists
Bin Event Alerts
Bin events such as "bin not out", "bin overloaded", "bin contaminated" are recorded by drivers with the simple press of an icon on the mobile data terminal menu.
Information including:
Date and Time
Address
Truck and Driver Information
Bin or other Event Information
10 seconds of video from one or more cameras
is immediately transmitted to the IntelliTrac software for viewing or raising a work orders.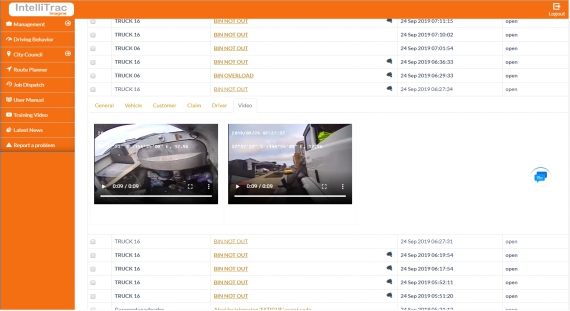 Live Video Streaming On Demand
IntelliTrac's Mobile Digital Video Recorder provides the following live streaming options:
Live Video Stream up to 4 cameras at once
Stream up to 4 cameras from one vehicle
Stream selected cameras from up to 4 vehicles at once
Route Planning & Optimisation
Working together with local government GIS departments IntelliTrac is able to provide the following functionality:
Upload of rate payer bin service data
Garbage truck route planning and optimisation
Review of route prior to deploying to mobile data terminals
Calculation of routes and work load balancing over the fleet
Reporting presented bins against expected bins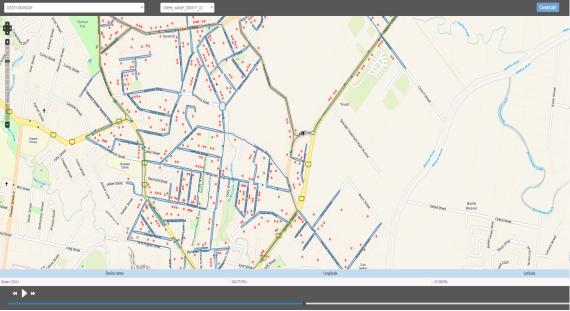 "No more scrappy paper job cards, notepads, sms messages & 2 way radio chats or phone calls between office & drivers."
"With Bizzow, you can schedule and manage commercial waste collection pick ups, dispatch to drivers, and improve customer service."
Commercial Waste Collections
Customise your own waste management operations software by implementing CRM, Rostering, Scheduling, Job Dispatch & GPS Tracking all in one solution.
Bizzow web & smart phone/tablet apps offer the ability to customise commercial waste management solutions to suit individual requirements.
Our comprehensive solution includes many modules such as CRM, Scheduling, Rostering, Job Allocation &Tracking, Invoicing, Quoting Tools, Stock & Billable items as well as customisable Forms for WHS/HSE, Compliance & Quality Control.
With Bizzow you will be able to provide garbage truck drivers clear information and instructions regarding their rubbish bin, skip and RORO tasks & work locations including navigation.